RMIT students show expertise in global tourism
Ngoc Hoang
A team of RMIT students has surged ahead in a World Tourism Organization competition with their innovative ideas for tourism recovery post the COVID-19 pandemic.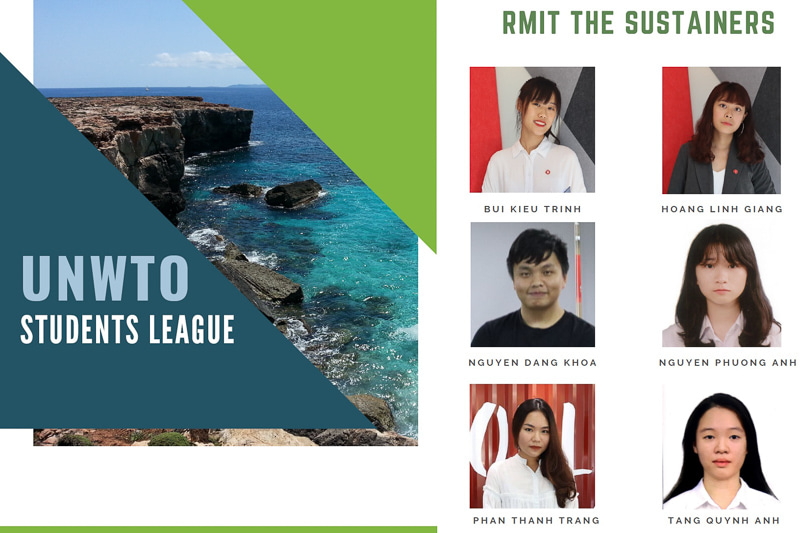 After completing three challenges, The Sustainers from RMIT University (Vietnam) have reached fourth place out of 62 teams in the UNWTO Students' League, the biggest global competition for tourism students held by the United Nations' World Tourism Organization (UNWTO).
This ranking comes after the RMIT team, comprising six second-year Tourism and Hospitality Management students from Hanoi, scored the highest points in the third challenge, where they developed a post-COVID-19 recovery solution for Spain's tourism sector.
Spain is one of the countries most heavily affected by COVID-19 but is also the world's second most popular visitor destination (as of 2019).
"We proposed that Spain use innovative monitoring technologies, multi-stakeholder collaboration, and coherent measures to carry out health and security policies as the country rebuilds its tourism sector," The Sustainers team leader Bui Kieu Trinh said.
"What makes this competition great is that it focuses on real areas with real problems looking for real solutions. So, we were excited to be the pioneers from RMIT to take part in it," Trinh added.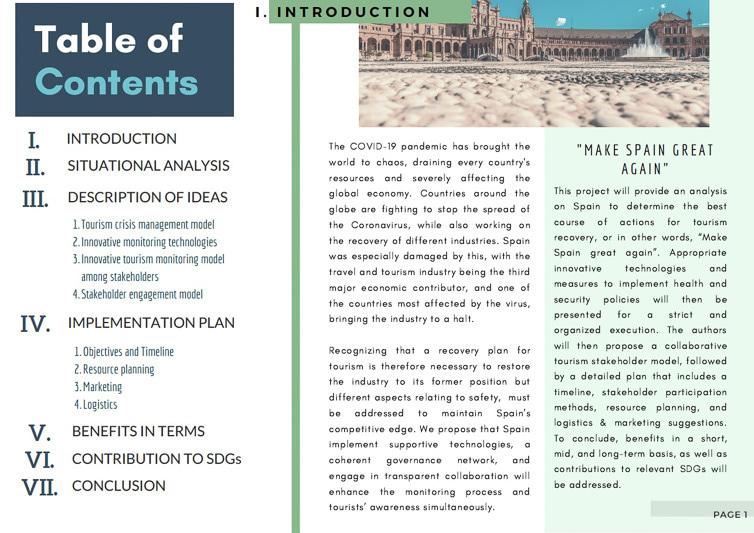 The UNWTO Students' League is a series of challenges that began in February and expected to take place over five months. Teams of students from institutions across the globe compete against each other to come up with the best innovative ideas to resolve critical tourism challenges.
The challenges are set by UNWTO and its public and private sector partners and the students' solutions are evaluated every month by a jury.
In the first challenge, the RMIT team provided solutions to help five small enterprises develop community-based wine tourism. For the second challenge, they presented sustainability solutions for inclusive tourism, with a focus on Vietnam post-COVID-19.
This is the first international competition any of the team's students has entered, making the past few months "a steep learning curve".
"We have surprised ourselves with how much we have improved in our research, communication and presentation skills in such a short time," said Hoang Linh Giang, a member of The Sustainers.
Her teammate Phan Thanh Trang added: "It was tough balancing assignment deadlines and the competition, especially since the topics were all so new to us and required lots of reading and complicated modelling. Working on them was also very rewarding for the very same reason."
At the end of the Students' League, the four teams with the highest scores globally are expected to participate in a final live competition in front of a jury panel. Until then, the teams will have some more online challenges to tackle.
RMIT Vietnam Tourism and Hospitality Management Program Manager Dr Jackie Ong believes that the students' achievements so far "consolidate RMIT's ranking as one of the best universities in solving issues relating to sustainability."
"The team has continued to truly go above and beyond as they've progressed in the competition. I hope they will continue to come up with new tourism solutions that can be applied widely in Vietnam and elsewhere, while gaining precious skills for their future careers," Dr Ong said.
Watch The Sustainers' presentation and Q&A session with UNWTO: